Good For Your Gut Focaccia Bread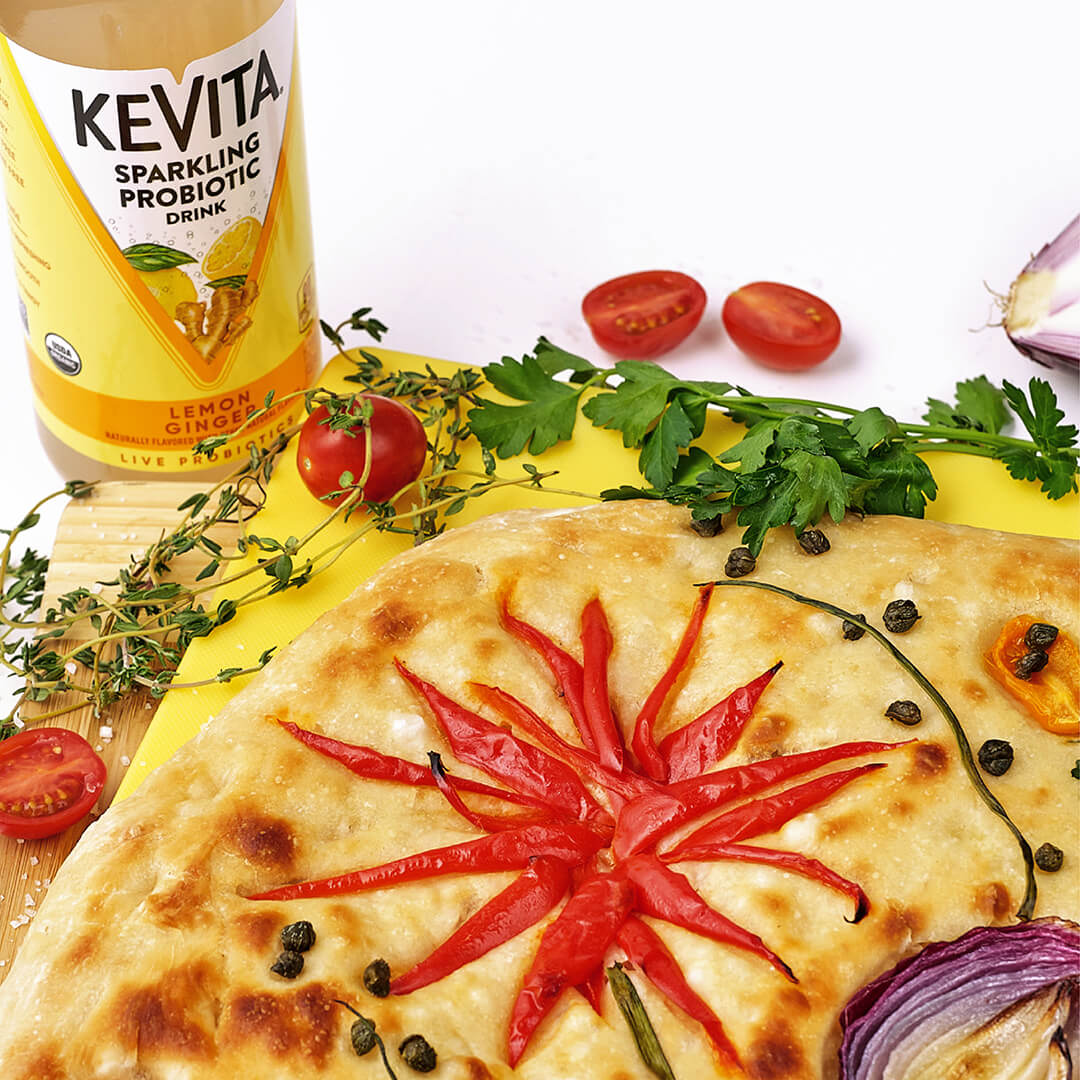 Good For Your Gut Focaccia Bread
When you pair prebiotic bread with probiotic KeVita, something beautiful happens. Follow the recipe to bake a focaccia loaf that is topped with delicious prebiotic ingredients that help feed the good bacteria in your gut.
INGREDIENTS

3 1/4 cups/415 grams all-purpose flour
1 tablespoon kosher salt
1/2 teaspoon active dry yeast
1 3/4 cups/420 milliliters warm water
4 tablespoons extra-virgin olive oil, plus more for greasing
1 1/2 teaspoons coarse sea salt


PREBIOTIC TOPPINGS

Red bell pepper
Yellow bell pepper
Chives
Capers
Red onion
Yellow grape tomatoes
Red grape tomatoes
Flat leaf parsley
Kalamata olives

DIRECTIONS

Whisk together the flour, kosher salt, and yeast in a bowl.
Add warm water until a wet dough is formed.
Pour two tablespoons of olive oil into a separate bowl, then transfer the dough to this bowl, and turn until it is coated in oil.
Cover the bowl tightly with plastic wrap or a lid and let it cool in the refrigerator for 24 to 48 hours.
Use a brush to apply oil to the inside of 9×13 inch baking pan. Then, place the dough into the pan, using your hands to spread it out and flatten it as much as possible.
Place the baking pan in a warm area of the kitchen and let the dough rise until it doubles in size. This should take between 20 and 90 minutes, depending on the room temperature.
Set the oven to 450 degrees. While you wait for it to heat, prep the dough by patting it down until it is at an even thickness of about 1 inch.
Add toppings to create prebiotic art of your very own!
Bake for about 20-25 minutes until the top is golden brown. Rotate the baking pan once for uniformity.
Place focaccia on wire rack to cool, pair with your favorite KeVita, and enjoy!